Charles Street Realty Team
Owner, Broker In Charge
License #:

15870
"I don't race to finish; I race to win."   Jodi is featured on Beaufort Lifestyle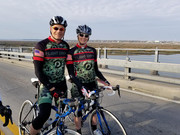 Jodi Joye, Owner and Broker in Charge & Lynn McPherson
We go the EXTRA mile for our clients
Office: 843-986-2424
Email: jodi@csrbeaufort.com or lynn@csrbeaufort.com
 Jodi Joye is the owner and Broker in Charge of Charles Street Realty and For Rent in Beaufort, LLC. Jodi and Lynn are devoted to helping clients find their perfect home to purchase or assisting them in the selling of their home throughout Beaufort, SC and Sea Islands. Jodi is a Beaufort, SC native,  a mutli-sport enthusiast and an animal lover! 
Lynn McPherson comes to us from the Charleston area where he had lived since 1983 serving our country in the Air Force, and after retirement, the steel industry. Lynn is an avid cyclist and loves the outdoors. He has a comfortable easy demeanor that will make buying or selling your home pleasant and non intimidating.

Let this husband and wife real estate duo show you why they call Beaufort home!
Our office is located at 906 Charles Street, Beaufort, SC 29902
come see us, we would love to meet you!
Sold
Listings
Port Royal, SC
beds
baths
Charles Street Realty
906 Charles Street
Beaufort, SC
29902